Pool Demolition
Rochester, NY
Pool Demolition & Removal Services
Rochester NY
Rock Environmental has been a leader in the demolition industry for 20+ years. Our expertise goes beyond the usual demolition projects. We have a certified team of experts in pool demolition and removal services.
Eventually, there comes a time when a pool is no longer wanted or needed. Rock Environmental is here to provide safe and professional pool demolition when that time comes.
Before the Project Begins
When planning your pool removal or demolition project, there are a few things to keep in mind:
Tip 1:
Clear the area around your pool. This can include lawn furniture, pool toys, or a deck if you have an above-ground pool.
Tip 2:
Pick a good time for the project. This type of work can be loud and messy, so it would be good to let neighbors know ahead of time.
Tip 3:
Plan for the project time frame. Often, the project can take up to 5 days to complete. Depending on the size of the pool and any problems that may arise, it could take longer.
Tip 4:
Ensure there is a clear path to the project area. Large equipment may be necessary depending on the type of work being completed. If there is fencing, it may need to come down for a short time.
Tip 5:
Before hiring a contractor to fill in your pool in Rochester, NY, be sure to consult with your local town, village, or city code enforcement officer to get a demolition permit. Rock Environmental can help obtain if necessary.
Above Ground Pool Demolition
Removing an above-ground pool in Rochester, NY is less complicated than one might think. Draining the pool, tearing it down, and then filling the area with topsoil and grass seed is all that is involved.
In-Ground Pool Demolition
In-ground pool removal typically involves draining the pool, drilling holes in the bottom, demolishing the top surrounding walls, and filling with pool with backfill and topsoil. This can change depending on which method you choose.
How Much Does it Cost for Pool Removal Services?
Generally, the cost can range from $5,000 to $15,000 and up if you want to remove your concrete pool completely from the ground. If you just want to fill in your concrete swimming pool, it can average cost between $3,500 and $5,000.
Swimming Pool Removal & Fill-In Methods
There are two ways to demolish a pool properly. One removal process is to partially deconstruct it and cover it with rubble and dirt, and the other is to totally remove the pool structure before filling the cavity with dirt.
Partial Pool Demolition
Partial pool demolition can often be a more practical and cost-effective option for pool owners who want to get rid of their pool in a less time-consuming way.
Partial Pool Removal or Pool Fill-in Method with No Backfill for New Installation
Partial Pool Removal or Pool Fill-in with Engineered Backfill
Complete Inground Pool Removal
Complete pool removal includes breaking up the entire structure using heavy machinery. Concrete removal is part of this process instead of using it as filler.
Full Pool Removal with Non-Engineered Backfill
Full Pool Removal with Engineered Backfill
**Our expert team can help you decide which method will be best for your pool demolition project**
Things to Consider When Choosing a Demolition Process
Impact on Land Stability
Partial pool demolition followed by backfilling and compacting is not recommended if you plan on building a new structure in the future. This area will likely experience shifting or sinkage if it is not properly filled and compacted.
Cost
Depending on the size of the pool and what type of equipment is needed, the cost can vary. Complete pool demolition is going to cost significantly more than a partial demolition.
Effect on Land Desirability
You will need to disclose to potential buyers how your pool was filled in, as this can affect the value of your property. Usually, if you had the pool completely removed, future use will have fewer restrictions, making it easier to sell.
Concrete pool removal generally requires the following machinery and tools:
Jackhammer
Excavator
Sledgehammer
Rebar Cutters
Dumpster
Soil Compactor
Other misc. tools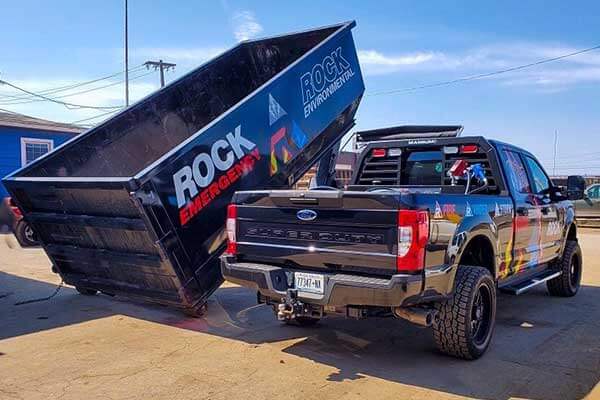 Why Choose Rock Environmental for Pool Demolition in Rochester, NY?
Your safety and peace of mind are our number one priority. We are a 24-hour emergency service dedicated to our customer's needs that services Rochester NY and the surrounding communities. Rock Environmental takes pride in our reliability for any size job.
We seek to satisfy our clients with expertise, cost and time efficacy, and cleanliness. Rock Environmental is an experienced service provider with a list of resources at our disposal, through which we perform an array of demolition and restorative services. We don't stop at just pool demolition, we can do it all!