Mold Inspection
Rochester, NY
Mold Inspection Services in Rochester, NY
An inspection is a process of discovering whether there is a mold problem inside your home. Our team members have all been HAZWOPPER trained and certified in mold removal.
Mold in your home is never pleasant, but our team is there for you every step of the journey; from the inspection to remediation, we're here for you.
Causes of Mold in Your Home
Mold is a fungus that produces spores that release into the air to reproduce themselves. Spores from these molds can grow into mold infestation in any area where they can find warmth, organic matter, and relative humidity levels at or above 60%. Ultimately, you can only control the relative humidity and moisture levels inside your home.
When You Need a Mold Inspection
Buying or selling real estate

Recently had a flood or water damage

You can smell mold, but you can't see it.

You saw mold in just one area and aren't sure whether it spread.

You have new health issues

Peace of Mind
Health Effects of Mold on You & Your Home
Mold affects your home in several ways.
Mold is everywhere, indoors and out. Microscopic spores make up mold, but when it's outside, they're invisible. It's found in everything from clothing to shoes to pets. Spores can land anywhere and rapidly spread.
If there is too much mold in the home, the indoor air quality becomes poor, and the home's overall integrity may be affected.
Mold affects your health when you breathe in mold spores.
Some people are more susceptible to mold than others. Those people may experience severe allergy or flu-like symptoms when exposed to mold. For some people, too much mold in their homes can cause headaches and allergy-like symptoms.
If you're experiencing severe home mold infestation, you could be at risk for some severe health problems. Health issues such as asthma attacks, upper respiratory infections (URI), and other health concerns arise. Those who already have weakened immune systems may experience these more severely.
Methods of Mold Inspection
We may always look for mold as home or business owners. We can use our sense of smell to help us identify potential problem areas, but it might be difficult to pinpoint exactly where they are. If you hire a professional mold inspector, you can get the best results.
The team at Rock Environmental has been appropriately trained and certified in mold removal. They also use a range of tools (infrared thermometers, moisture meters) to help spot problem areas.
A mold inspector's first step is visually to inspect potential hidden mold sources, including walls, ceilings, floors, and furniture. They'll look at places where you might have noticed signs of mold growth or a musty smell. The age and history of your building are essential factors in the inspection.
They may also use an infrared camera to find areas with moisture where mold could grow. The goal of an inspection is to identify where there is likely to be mold growing. To learn whether the mold is dangerous for your health, experts will conduct further tests to determine the type of fungus you have.
There are ways to test the mold in a home. A swab will test different surfaces throughout your house, including carpeting, hardwood floors, upholstery, and countertops. Testing could tell you what type (if any) of mold has invaded your home.
There is also air sampling and air testing. While this method isn't always the best, it can help you understand areas in your home where mold is more likely to be.
A mold inspection costs approximately the same as a regular home inspection. For a small to medium-size house, the average cost for a mold investigation is between $300 and $400. For homes larger than 4,000 sq ft, the price ranges from $700-to $900.
Testing, however, is not covered in these costs. In NYS, it is required to have the mold assessor and mold remediator be different companies. So if you see or smell mold, just call Rock Environmental for quick and effective mold remediation services!
Mold Assessment Leads to Remediation
If your mold inspection reveals mold, it is crucial to have a mold removal company like Rock Environmental come out and remove it for you. We'll get a plan in place, so you don't have to worry.
If the size of the infestation is small enough, you might be able to handle it by yourself. However, the EPA suggests that if it is any bigger than a 3-foot square, a professional should take care of it.
With our plan in place, we can ensure all the mold has been removed. We might cut and remove pieces of drywall or wooden flooring from your home. We'll be able to restore the affected area once all the mold has been removed.
You can be sure that the mold has been removed. You can take precautions, so the mold doesn't return. Here's a list of things we recommend.
Tips on How to Prevent Mold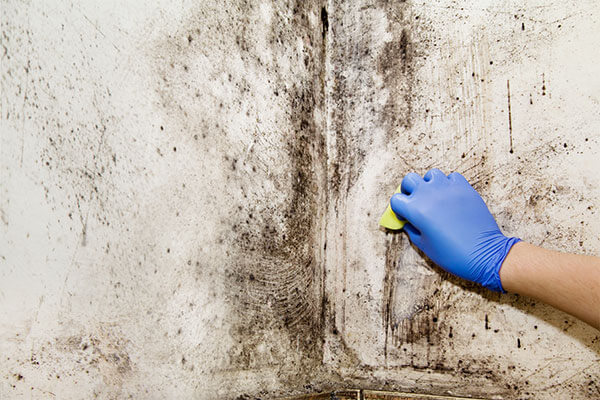 If your house is prone to moisture, you might want to invest in a de-humidifier. Basements can retain moisture; low humidity levels can help prevent mold growth by keeping moisture levels down.
Make sure you have good ventilation. This includes vents in your attic, your kitchen, and your bathroom. Moisture-collecting areas must be vented. This is the perfect place for mold and bacteria to grow.
Repair any leaks quickly. If you have a leaking pipe anywhere in your home, there is a chance mold could grow inside the area surrounding it. Also, the water-damag­ed areas can trap moisture and allow mold to develop if there is a leaky roof. If any area has been wet for an extensive period of time, it will eventually promote mold growth. Here's our final tip.
Mold spores can contaminate your belongings within just 24 hours. If the carpet has gotten wet, or if there was a small flood inside your basement, you'll need to get the wet things out, and the area needs to be dried quickly. Rock Environmental can help with the water damage situation so that mold doesn't grow in your home.

Why Choose Rock Environmental?
We take your safety and security seriously. We are a 24/7 emergency service dedicated to our customers' needs that serves Rochester, NY, and the nearby areas. We take pride in our reliability for any size project.
We strive to meet our clients' needs by providing high-quality service at an affordable price. Rock Environmental is a well-established service provider with a wide range of resources available to us, through which we perform a variety of demolition and restorative service. We're not just limited to mold remediation; we do it all!