How Long Does It Take
To Remove Mold?
---
In this comprehensive post, we'll go over;
Everything you need to know about how long it takes to remove mold.
You'll learn;
Common signs of mold
What mold remediation is
Factors of mold removal
What to expect during remediation
How long it takes to remove mold
So if you've ever wondered about any of these points, you'll love this post!
Signs of Mold in Your Home
Mildew or mold odors in certain areas of the home

New or sudden onset of allergies or respiratory illness

Discoloration under sinks, windowsills, shower/tubs, or around vents

Known water damage to the property
Watermarks on walls or ceilings from water leaks

Damp or humid areas (bathroom, attic, basement)

Condensation buildup on windows, mirrors, and walls

Visible mold growing
What is Mold Remediation & Mold Removal?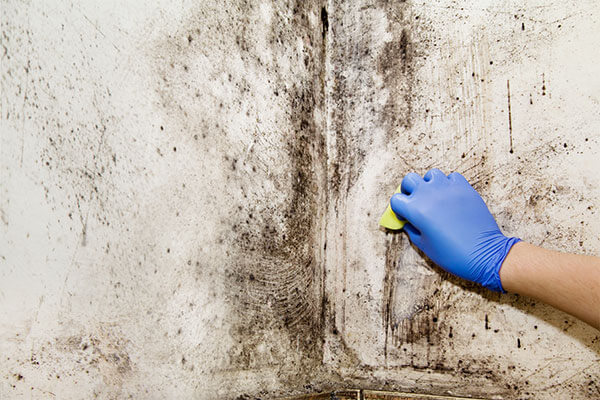 The
EPA
states that the indoor relative humidity in a home should be lower than 60%, with the ideal range being between 30-50%. It is also recommended that an area of more than 10 square feet should be handled by a professional
mold remediation
company like Rock Environmental.
Mold remediation includes the removal, cleaning, and disinfection of mold-infested areas. With remediation, the mold is not only removed but the initial problem that caused the mold will be fixed.
The likeliness of mold returning is slim by fixing the problem (roof or pipe leak, moisture issues). The Rock Environmental professional team will create an effective remediation plan that will safely remove and eliminate the chances of mold coming back.
Mold removal is often only the locating and removal of mold. A mold professional will complete a basic mold inspection to allow them to find the areas of mold. They will then use cleaning agents that will kill mold on the surface.
Usually, the mold removal process does not fix the original mold issue (leaks, humidity) and only cleans the mold problem itself. Unfortunately, mold will likely continue to grow back until the problem is resolved.
Mold remediation can take anywhere from 1-4 days up to weeks or months, depending on the severity of the mold infestation. There are several factors to consider when planning a mold remediation project, including:
The size of the contaminated site

The location of the mold

What type of surface the mold is growing on (wood, concrete)

What kind of mold is contaminating the area

The initial cause of the mold situation
What to Expect During Mold Remediation
Every mold situation is unique; however, the mold remediation process will remain the same.
Preparation
After our team has provided an assessment, we will create a remediation plan. Once plans are in place, our IICRC and HAZWOPER trained team will ensure everyone has proper PPE and the specialized equipment needed to complete the project.
We will contain the area affected by mold. We do this by using biohazard grade sheeting. The plastic sheet is sealed around windows and doors to prevent mold from contaminating other areas of the home. 
Once the site is contained, our team may use a misting solution to dampen the mold spores to prevent them from being agitated and becoming airborne. The misting process depends on the type of mold and where the growth has occurred. 
We are now prepped and ready to start the remediation process.
Remediation
Our remediation process begins with the removal of any items that cannot be salvaged, such as paper documents, drywall, and carpet. We dispose of these items following all EPA guidelines. Any contaminated materials that can be restored and removed from the home will be brought to our secure facility. There, we will be able to safely and effectively clean and disinfect the items before returning them to your home (upon completion of the remediation project).
Materials and items that cannot be removed from the home are strategically cleaned and disinfected. Contaminated surfaces will be cleaned using a HEPA vacuum to remove the larger areas of mold spores. 
Then, we will use a mold-killing cleaning agent to scrub and wipe down the surfaces. Depending on the area, we may be able to use the EPA-approved disinfectant, SteraMist. The time until complete removal of mold spores is only minutes after it has been applied. 
Any items or materials that may still be damp will be thoroughly dried before we finish up. To ensure everything is dry, we will use high-powered fans and dehumidifiers and install HEPA filters to help clean the air.
Restored
All mold-damaged materials are repaired or replaced, the moisture source stimulating mold growth is repaired, mold waste is disposed of, and final visual checks and air quality tests are performed. If the results are within acceptable levels, the remediation job is complete.
How Long Does it Take to Remove Mold?
Various factors are reviewed when determining the amount of time it takes to remove mold. Some include the area, the amount of mold, and if it is easy to access. See below the average time it takes to remove mold from typical areas.
Attic Mold: 1 day for minor mold growth, 5+ days for larger areas (entire attic)
Crawl Space Mold: 2-10 days depending on how the space is as well as how large of a mold area that needs to be remediated
Bathroom Mold: 1 day or less for tubs & showers, up to 3 days for behind or under bathroom cabinets.
Mold Inside or Behind Walls & Ceilings: 3-7 days; however, the amount of time it takes will depend on how much of the ceiling or wall needs to be removed to make repairs and fully remediate the mold. 
Basement Mold: 1-5 days for complete mold removal. Mold may be found within the heating & cooling systems, behind water heaters or sump pumps, or on the concrete floors and walls. Depending on where it is growing and how large of an area it is will determine the length of time required to remediate.
Whole-Home Mold Remediation: 5-10 days is the average time to remediate a home fully. Factors include the damage caused by the mold, how much of the home's contents need to be removed or restored, and how large the house is.
Regardless of how long it takes to remove mold from your home, the team at Rock Environmental is here for you. We aim to help you get back to pre-mold conditions quickly and safely. If you or someone you know is concerned about mold remediation, contact our team through call or email.