Mold Remediation
Rochester, NY
Mold Remediation Services
Rochester, NY
Mold Remediation, also known as mold removal, is the process of finding, stopping, and removing mold from your home or business.  Mold is common, with over 100,000 different species, and is almost everywhere.
In Rochester, NY, and the surrounding areas, mold is common all year round due to the ever-changing weather conditions. Environments that have moisture and usually higher temperatures can become a breeding ground for mold. The most common areas to find mold would be in bathrooms, basements, attics, and crawl spaces. Without proper ventilation, there is a chance mold can grow!
At Rock Environmental, all of our mold remediation professionals and technicians are certified and trained to provide mold removal and mold inspection services! We take pride in our work, and our job doesn't end until we have fully restored your property to pre-mold conditions!
Did you know that mold is a type of fungus? Additionally, each type of mold is made up of many species! With so many different kinds of mold, there or many characteristics including slimy, powdery, hairy of velvet-like.
Depending on the type of mold spores, they may grow in a different area from others. Most mold will be found where there is water damage, or high moisture, low ventilation areas.
There are different classes of mold which are used to determine how harmful the mold spores can be to people and the environment. These classifications include:
Allergenic - cause allergy-like symptoms
Pathogenic - can make pre-existing health conditions worse
Toxigenic - extremely dangerous and these types produce mycotoxin spores (most common is black mold)
Some types of mold are more likely to be found within your home or business than others. You can check out our blog for a comprehensive post of the most commonly found types of mold in and around your home!
Mold spores grow and travel in a variety of environments, both indoors and out. When mold is growing inside the home, it is more than likely due to humidity, moisture/condensation, and temperature.
When all of these are in the same place, say a bathroom, it becomes the perfect breeding ground for mold to grow and produce.
When our mold remediation experts are called in, many times it is because of a mold infestation in the bathroom. Bathrooms are a perfect place for mold due to the humidity and moisture caused by bathing. Proper ventilation while showering is a must in preventing mold in your bathroom.
Another reason we are needed for mold remediation is due to water damage, or excess water from flooding or leaks. If moisture gets into drywall or other porous materials, like furniture or carpets, mold will grow!
If you notice excess water from a flood or leak, call our mold remediation professionals right away. If water damage is left for too long, mold will begin and continue to grow. This can lead to secondary damage affecting ductwork, indoor air quality, and structural issues causing even more damage!
Health Risks of Mold Exposure
The effects of mold can vary from person to person. Some people have severe allergic reactions to mold causing hives, and breathing issues. For any individual who has chronic respiratory illnesses, it is imperative to have our professionals provide expert mold remediation services!
Those who have seasonal allergies may also be affected more, by the presence of mold causing sneezing, itchy, watery eyes, and a dry cough. Prolonged mold exposure can lead to more permanent health issues like mold-related asthma, chronic sinus infections, and severe respiratory illnesses. Learn more about the health risks of mold on the Mayo Clinic website.
If you notice any signs of a mold issue, or symptoms of a mold allergy, first consult with your physician. Next, call Rock Environmental. Through the expert mold remediation services provided by Rock Environmental, you can be assured that we will effectively remove the presence of mold in your home!
If there is damage caused by excess mold, we have a variety of methods to recover the damage from mold build-up and musty odors including mold removal tools & equipment.
Our Mold Remediation Process
At Rock Environmental, we have an array of resources and equipment that we use. Our remediation technicians have been trained in using the equipment to ensure proper removal and restoration of your home. We proceed with caution during our work to keep your home, family, and employees safe from possible mold exposure.
After our initial visual mold inspection, we will contain the affected area. Next, we will work through different assessments to determine where exactly the mold growth is, how bad the mold damage is, and create a plan for effective mold remediation.
Various equipment will be used including but not limited to:
Moisture Meters
Various cleaning products and supplies
Proper PPE (Personal Protective Equipment)
High Powered fans for drying up any remaining moisture left from water damage
Air filtration systems and dehumidifiers to remove excess moisture from the air
Odor removing cleaners and systems to provide fresh, clean air post-remediation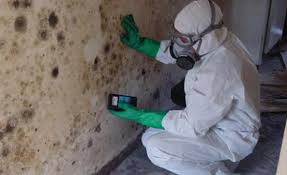 How Much Does Mold Remediation Cost?
With the worry about possibly having mold in your home, you're now thinking about what it's going to cost to remove it. Honestly, there is no definitive answer as to how much it will cost to successfully remediate a mold problem within your home.
Many factors come into play such as how bad the mold infestation is, how large an area is affected, and what has caused the mold situation in the first place. All these factors will determine the cost of mold removal.
**Note that all prices are based on average costs and are not guaranteed. Prices will also vary (+/-)**
Attics - $500 to $4,000+
Crawl Spaces - $500 to $4,000+
Basements - $1,500 to $3,000+
Bathrooms - $500 to $2,000+
Showers - $500 to $1,000+
HVAC Systems - $4,000 to $6,000+
Vents - $100 to $500+
Widespread - $10,000 to $30,000+
Fabric Cleaning - $500 to $2,000+
Sewage Flood - $10,000 to $20,000+
Black Mold - $1,000 to $4,500+
White Mold - $500 to $3,000+
Drywall & Carpet - $2,000 to $10,000+
Roof Deck - $500 to $10,000+
Average Cost - $1,500 to $5,000
Even though the cost of mold remediation isn't set in stone, don't let the amount deter you from having professional remediation.  In many cases, other work will need to be completed in addition to mold remediation. It would be safe to budget for an additional 15% for materials and damage repairs.
When it comes to mold, the EPA indicates if the area infested with mold is less than 100 square feet, it is likely a DIY mold removal can be completed.
There are at-home mold testing kits, however, these are unreliable. Almost every home will have a mold presence (it's everywhere) resulting in the test kit coming back saying you have mold in your home.
Additionally, if the mold situation was caused by water damage, it will be best to have a professional mold remediation company like Rock Environmental come in. Lastly, it is important to know if your insurance company will cover the costs of the remediation project.
 Many companies do not cover the costs unless the mold damage was caused by a "freak-like" accident such as a burst pipe, sump-pump malfunction, or other situations similar. Water damage can be a long-term issue if ignored by the homeowner, which is why most companies won't cover it.
Flooding is also usually not covered unless you have an additional flood insurance policy. If you are unsure of what your homeowner's insurance will cover, Rock Environmental will collaborate with you and your insurance company to ensure a smooth remediation process for your home!
Mold Remediation Rochester NY Experts
Rock Environmental follows all OSHA safety regulations and uses only the best EPA-approved solutions. Additionally, all of our professionals have completed HAZWOPER training and are IICRC certified.  What does this mean for you? It means that we will provide you only the best, quality services. We strive for excellence from every employee to provide you with the best experience! Also, ask us about
asbestos testing
and removal!
Rock Environmental has compiled a list for you with tips on preventing mold from growing in your home. Below are some of the ways you can prevent the need for mold remediation:
Beware of humidity which can cause condensation. Keep your rooms properly ventilated. Recommended humidity levels range between 40 - 60%
Use dehumidifiers in areas where there is a higher concentration of moisture, like the basement
Clean up any excess water, don't let it "dry up on its own"
At the first sign of mold growth, clean using approved mold-killing agents. The CDC has some guidelines you can check out!
If there has been recent water damage, ensure the room and belongings have been properly dried and cleaned. The last thing you want is mold to start growing and bring it back into your home. It will spread to other items.
If you are unsure if you have a mold problem, contact the mold remediation experts at Rock Environmental for an assessment.
Why Choose Rock Environmental as your Mold Removal Company?
Your safety and peace of mind are our number one priority. We are a 24-hour emergency Mold Remediation service dedicated to our customer's needs that serves Rochester, NY, and the surrounding areas. Rock Environmental takes pride in our reliability for any size job.
We seek to satisfy our clients with our expertise, cost and time efficacy, and our cleanliness. Rock Environmental is an experienced service provider that has a list of resources at our disposal, through which we perform an array of demolition and restorative services. We don't stop at just Mold Remediation, we can do it all!