Covid Cleaning Services Albany, NY
Full facility disinfection of life-threatening viruses such as Covid-19
Coronavirus Cleaning & Disinfection
Rock Environmental is the leading provider of Covid Cleaning Services in Albany, NY. Right now, over a million Americans have tested positive for this virus in the United States. Quarantine/isolation efforts are in place to help prevent the continued spread of the Covid-19.
Rock Environmental is confident in assisting any virus clean-up or disinfection needs that may arise.
The professionals at Rock Environmental have all completed the 40-hour HAZWOPER training. We are fully educated on the EPA and OSHA standards and requirements for the cleanup and disinfection of Covid-19.
We are prepared to fight this virus outbreak FOR you! Plans are in place for effective site clean-up. This includes disinfection, decontamination, and the removal & management of all hazardous and infectious waste.
Our experienced team is ready to fight this virus at any time, day or night! We're available 24 Hours!
Coronavirus Cleaning Products We Use and How They Work
---
Rock Environmental has teamed up with Tomi Environmental Solutions to be able to provide the best products and services in Albany, NY. We have been professionally trained in using the SteraMist products which use Binary Ionization Technology (BIT). Binary Ionization Technology is a product that is registered with the EPA as a Hospital-HealthCare Disinfectant, Effective Broad-Spectrum Disinfectant.
Using a 2-step process, a solution of 7.8% Hydrogen Peroxide is activated and ionized. This is used with a high concentration of the Reactive Oxygen Species, mostly hydroxyl radicals, which is what kills. These are among the most powerful oxidizing agents in nature, and with the iHP process, bacterial and fungal spores are killed. Additionally, viral cells like Coronavirus are inactivated, which eventually leads to the dysfunction of the cell and it dies.
TOMI's Plasma Science technology turns the solution into a mist, which can easily transfer to all surfaces, cracks, and materials in an area. The mist can get into places that other products can't. It is safe for all materials including fabric, wood, metal, and even electronics. The ionized mist dries, so there is no need for wiping anything down which provides a safe, thoroughly decontaminated, and disinfected space.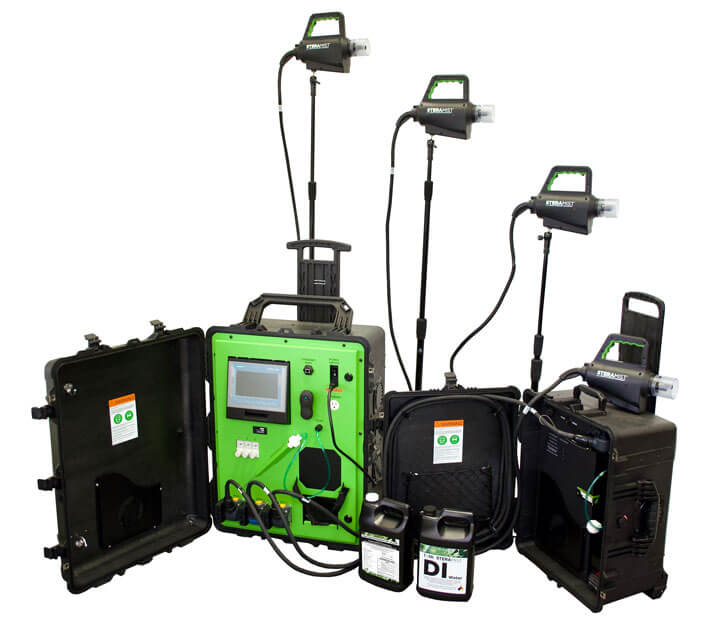 Albany, NY Facilities We Disinfect for Covid-19
---
Rock Environmental is prepared to  disinfect a vast array of facilities in Albany, NY and surrounding areas including but not limited to:
Hospitals of

ALL

sizes (including all rooms and equipment)

Medical Clinics & Surgical Centers

Rehabilitation and Senior Living Centers

Emergency Medical Transport (Ambulance, Mercy Flight)

Transportation Vehicles (including Police, Fire Rescue, and equipment)

Schools & Universities

Childcare Facilities

Residential Housing and Community Centers

Athletic Facilities & Equipment

Laboratories

Pharmaceutical Facilities

Research Facilities

Any

type of Food Facility (Manufacturing, Grocery Stores, Restaurants)
Click here to learn more about our Full-Service Facility Cleaning for Coronavirus.
Coronavirus Prevention & Tips
It may seem like a broken record by now, but there are many things to keep in mind when it comes to Coronavirus and other common viruses like the Flu. Below, you'll find some helpful information as well as prevention tips and tricks!
What are the Symptoms, and Who is at Risk?
Symptoms include a fever (described as a higher than YOUR normal temperature), dry cough and tightness in the chest causing breathing difficulty. Since coronavirus is the type of virus that causes other respiratory illnesses such as pneumonia, the symptoms can be similar. Those who are at risk include anyone who has current respiratory problems.
This can include COPD and chronic bronchitis. Those who are immunocompromised for any type of reason are also at risk for more severe complications. Those on immunosuppressants and those who are receiving chemotherapy are at a higher risk since it would be difficult for the body to fight off the virus. At this point, COVID-19 does not have a preference on who it infects. All ages, all ethnicities!
How it Spreads
Person-to-person is the most common way this virus spreads. Much like other viruses and bacteria, it can be spread through coughs and sneezes. The Coronavirus can also be spread by touching contaminated surfaces. After touching an infected area, the individual may become infected by touching their eyes, nose or mouth.
It has been found this virus spreads easily, and that is since symptoms can take anywhere from 2-14 days to appear. There may be people who have the virus but have not shown any symptoms yet. This type of virus can spread easily through a community.
How to Stop the Spread
The most important thing is to wash your hands!!! Covering coughs and sneezes will also help prevent droplets to be released into the air. Using a tissue, or the crook in your arm also work. Then, of course, wash your hands. Hand Sanitizer that is made up of 60% or more alcohol can also be effective in hand sanitation. Also, avoid touching your eyes, nose or mouth if you have not recently washed your hands!
Avoid close contact with large groups of people if you are able. Also, avoid anyone who may be sick, or has any type of illness. Staying away by choice can prevent not only you from getting the virus, but also prevent the further spread.
If you are feeling ill in any type of way, STAY HOME! Due to this virus spreading through communities all over the world, it is best to stay home. If you need to be around people when you are feeling ill, wear a facemask. If you start to experience symptoms, you should first contact your physician. If you do not have one, then you should contact your county or public health department. They will then provide you with directions on what to do.
Wear your mask or other face covering. NY State guidelines and the CDC have recommended for any person out in public areas where social distancing is unable to be maintained should wear a mask. While masks are hard to come by, it is easy enough to make your own at home. You can even use a bandana or scarf, as long as your mouth and nose is covered.
Lastly, keep everything clean. Surfaces you frequently touch, like doorknobs, cell phones, light switches, all of it…keep clean. Using disinfecting wipes in the home will help reduce the chance of virus spread. If in a large facility such as a hospital, contacting a professional cleaning company like Rock Environment will be the best and most efficient way to disinfect and decontaminate.
For more information on how to prevent the spread of Coronavirus, you can visit the CDC website as well as the WHO website.
Frequently Asked Questions
About Coronavirus Cleaning & Steramist®
Why Choose Rock Environmental?
Your safety and peace of mind are our number one priority. The fact that we are a 24-hour emergency service shows how dedicated we are to our customer's needs in and surrounding the Albany, NY region. We pride ourselves on our reliability for any size job.
In addition, we seek to satisfy our clients with our expertise, cost and time-efficacy, and our cleanliness. Being an experienced service provider in Coronavirus Cleaning, we have a list of resources at our disposal, through which we perform an array of Environmental, Biohazard Cleanup, and Emergency Services.