Media Blasting in Albany, NY
We Provide Media Blasting to any Commercial or Residential Property. No job is too big or small!
Media Blasting Albany, NY
The process of media blasting, previously known as abrasive blasting, has been in place since the 1800s. Even though the types of media used and blasting equipment have changed, the purpose is still the same: remove something from a surface without damaging it. 
Even though media blasting has evolved over time, there are still serious health risks involved. Rock Environmental in Albany, NY has been trained and certified to work with potentially hazardous materials as well as following all OSHA guidelines. It is important to not try to do this job on your own without the proper training and protective equipment. All of our professionals have been properly trained to do this job, so just call us and we will take care of it for you!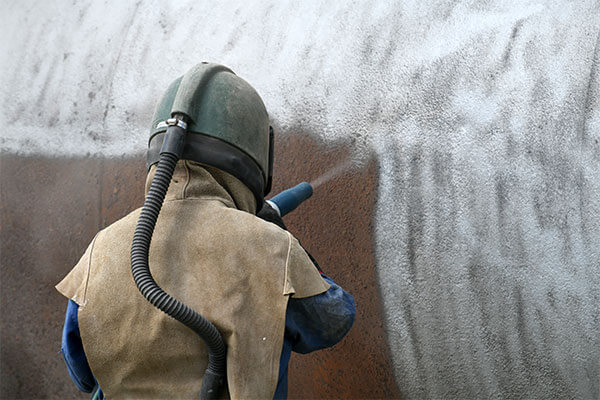 Media blasting works by using a pressurized fluid (usually water), compressed air, and a form of media such as glass, sodium bicarbonate, and aluminum oxide. An air compressor gets hooked up to pressure blasters which consist of hoses and nozzles made of heavy-duty materials least likely to wear down from the abrasive materials.
The high-pressure stream of media material is forced over the surface you want to be cleaned, restored, or remediated. The media particles are so small that they do not cause damage to the area, but they can remove paint particles, rust, mold, stains, and other surface contaminants. 
Media blasting can be performed in different locations both indoors and outdoors. Depending on which type of media is being used, the task may be performed in a sealed room or in a smaller container to reduce the number of particles released from the blasting. Regardless of where the blasting occurs, each professional will be wearing protective equipment to protect their lungs, face, and body.
Types & Methods of Media Blasting
There are a variety of types and methods used in media blasting. The purpose will determine which media form will be best for your project. Our professionals at Rock Environmental will come out and provide you with an assessment of your project, which will help them better see what media they should use. Check out the common methods and media types we may use for your project below.
Bead & Shot Blasting
Uses tiny steel balls, which is a great media blaster when restoring surfaces for paint. The tiny bead or shot particles strip away paint, clean, and profile surfaces, and leave a rough texture. The rougher texture allows for paint to adhere better. This method is also a dry method meaning the area can be worked on after the media blasting has been completed.
Glass Blasting
Uses fine particles of crushed glass, or what could look like a tiny glass bead. Leaves virtually no dust behind.
Sandblasting
Also known as abrasive blasting, uses silica sand or another type of sand to clean, smooth, and shape surfaces. This can occur in nature with wind and sand, creating smooth rock surfaces. Sandblasting is not used as often due to the health risks associated with the dust from sand causing lung infections. 
A new alternative to silica sand is walnut shells. This provides a safe and environmentally friendly way to remove paint and rust from surfaces. However, walnut shells can cause an allergic reaction for those who are near the media blasting area.
Aluminum Oxide Blasting
This abrasive media type is known for its hardness, and that it doesn't break or shatter easily resulting in less dust when using this blasting process. Additionally, because of its durability, it can be recycled and reused in multiple media blasting projects.
Sponge Blasting
Uses a micro-abrasive material attached to microsponges that allow for cleaning and restoration of areas next to or near more sensitive surfaces. This method is almost dustless as the sponges absorb the removed particles.
Dry Ice Blasting
Using a mixture of compressed air and dry ice, particles are removed by the force of the frozen air hitting it at a high speed. When the particles freeze, they shrink and fall from the surface. Being that dry ice is a soft material, the underlying surface is not affected by the media.
Soda Blasting
Uses a sodium bicarbonate material which is applied to surfaces using compressed air. This process removes paint, rust, oil, and other contaminants without damaging the surface.
Hydro Blasting
Also known as water-jetting, uses a high-pressure stream of water. This process does not include any abrasive materials. This method is similar to using a pressure washer and can help to remove stains from wood, mold or fungus, or mineral deposits.
Media Blasting Uses & Areas
Media blasting is a clean and easy way to affordably restore almost any surface. The more durable the surface the better, however, most surfaces can be restored with one of our media blasting methods.
Check out our list below that covers our most common commercial and residential uses for media blasting. If you are needing something that isn't on our list, just give us a call at (518) 599-5151.
Restoration
Rust removal

Restoration preparation

Epoxy coating removal

Auto restoration

Steel surface prep for welding

Restore fireplaces and chimneys

Restoring brick

Machine Surfaces
Remediation/Abatement
Asbestos Removal

Mold Remediation

Fire Restoration

Lead Paint Abatement

VOC Coatings Removal

Fire damage and soot removal

Remove mildew from decks
Paint Removal
Paint Stripping

Graffiti Removal

Prepare surfaces for new paint

Clean up spilled paint

Remove paint from bricks

Remove paint from decks

De-paint swimming pools
Cleaning
Building Exteriors 

Building Interiors

Commercial Holding Tanks 

Commercial Trucks & Vehicles

Concrete Surfaces

Asphalt Driveways

Stone Paths 

Decorative Stone Walls
Why Choose Rock Environmental for Media Blasting
Rock Environmental has been a leading service provider for 15+ years in the remediation and hazardous materials industry. With services ranging from mold remediation, asbestos removal, lead paint removal, and water damage restoration, we are equipped to handle your project of any size. 
Working with business owners and homeowners, we ensure professional and courteous service every time. All of our staff members have been HAZWOPER trained and IICRC certified. With a range of resources available to us, no job is too big or too hazardous. Trust in our team because we're in this together.