Full Commercial Demolition Company
in Rochester, NY
Rock Environmental is Rochester's top residential and commercial demolition contractor. We bring all of our own equipment and take care of any recycling and waste disposal once your demolition is complete. Our professionals create a custom demolition plan that will best suit your needs, taking care of the surrounding area as well as the environment.
Custom plans are created using the following information:
How big or tall is the structure?

What is the structure made of (brick, wood, steel)?

Will you require the foundation to be removed? If so, how thick is it?

How close are the surrounding buildings? 

Are there nearby trees or landscaping that we should be aware of?
*Demolition costs will vary depending on the above as well as what method will be required to complete the demolition project on your property.
---
"Great bunch of guys hard working and clean on the job."
Commercial Demolition Services
The professional commercial demolition crew at Rock Environmental offers a variety of options when it comes to safely demolish a structure on your property. Commercial demolition projects can arise for many different reasons, including disaster recovery and storm damage cleanup, and partial or full demolition.
Once we can develop a demolition project plan, we will obtain any required permits before starting the project. Listed below are some of the common calls we receive for commercial demolition services. If you don't see your project on the list, just give us a call at (585) 340-6799 because we do it all.
Commercial Structure Demolition
Demolition of a specific structure can mean different things. Sometimes, just a small area of a building needs to be demolished. This often happens for a remodeling project. Full demolition of structures including inground pools can also be completed by Rock Environmental.
Partial or Selective Demolition (Interior Demolition)
Complete demolition of structures
Multi-story building demolition
Inground Pool Demolition
Commercial Concrete & Steel Demolition
Concrete and steel demolition services often require larger machinery and equipment due to the size and weight of the materials. Concrete slabs, foundations, steel interior items, and other commercial areas are all services handled by Rock Environmental professionals.
Slab/foundation cutting & removal
Water tower/tank demolition
Elevator & Escalator systems
Boiler Demolition
Underground Tank Removal Demolition
Steel Beam Demolition
Commercial Demolition Disposal Services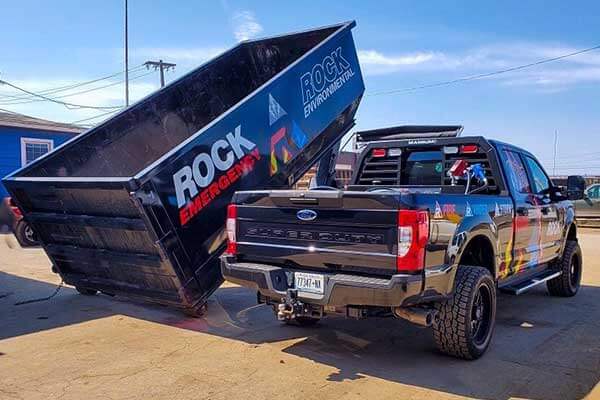 Material Recycling - The wood, concrete, and other structural materials can often be recycled and used for other projects. Our commercial demolition team has been working with recycling facilities that allow proper recycling and reuse of these materials. 
Dismantling and Material Recovery - Before a complete demolition, our team will go in and salvage any materials that can be recycled or reused. We handle the removal safely so that you don't have any unwanted materials left behind. We often find copper piping, or weathered barn wood to be highly reused. 
Debris Removal - Rock Environmental provides its own roll-off dumpsters. So no need to worry about additional rentals or extra costs associated with your commercial demolition project.
Hazardous Materials Disposal - The Rock Environmental team has been HAZWOPER trained and can safely remove hazardous materials from your structure. This may include mold, asbestos, or items with lead paint. If any of these materials have been found, they will need to be removed before any demolition.
Demolition & Deconstruction Methods
Explosive Demolition - The explosive demolition process uses materials that turn a building or structure into rubble which is then removed. Another way is to use implosion, which takes down taller structures by having them fall within itself which makes them come straight down. 
Non-Explosive Demolition - No explosives are used with this method. Our Rochester, NY commercial demolition contractors will use heavy equipment such as wrecking balls, excavators, and bulldozers for demolition and excavation.
Selective (Interior) Demolition - This demolition process is used on a smaller, more specific area of a commercial building. Often used before a remodel or with expansions of a space.  
Deconstruction/Dismantling - This method is used when there are materials that can be salvaged or reused. Instead of using heavy machinery to demolish the structure, it is carefully taken apart. Often done by hand, this process will take longer. However, there will be less debris to remove once the project is completed.
---
---
---
---
Commercial Demolition Equipment
Hydraulic Shears and Rock Breakers - These massive tools allow our team to quickly and effectively break up a large rock and concrete slabs. The sears allow for clean cuts through most materials such as wood, metal, and concrete. 
Wrecking Balls - A giant ball made often of steel, is suspended from a crane and swung repeatedly to tear down a building. 
Cranes - While cranes can be used for wrecking balls, it is one of the most important pieces in a demolition project. Cranes allow our crews to reach taller buildings, and for the more precise dismantling of larger commercial properties.
Bulldozers & Excavators - Bulldozers can be used to knock down smaller structures (barns, sheds). Additionally, the materials can then be pushed away from the site for easier cleanup and removal. Excavators are often used to help maneuver materials into dumpsters or to assist with digging up materials from underground.
Dumpsters - Among the most essential for clearing a demolition site. Since we provide our dumpsters, the cleanup and removal process will go much smoother, making it quick and easy. All materials that can be recycled will be properly removed and handled with care. All waste will also be taken to the proper facilities.
Why Choose Rock Environmental as your Commercial Demolition Contractor
Rock Environmental follows all OSHA standards when it comes to any of its services. Ensuring quality, professional services every time, we will work with you to keep your business running smoothly, and your project completed in a timely manner.
We will work with your insurance company, and obtain any required permits on your behalf. We're in this together, so call today to start developing your commercial demolition plan.
Get In Touch With Us Today!
While some companies may specialize in only demolition, we believe our company, Rock Environmental, stands out by offering full-service commercial demolition services in and around Rochester, NY. As licensed professionals, we are able to safely complete your demolition project from start to finish with minimal time loss and expert restorative craftsmanship!