Biohazard Cleanup
Rochester, NY
CORONAVIRUS (CoViD-19)
Rock Environmental, Inc. technicians have been professionally trained to eradicate infectious diseases, such as the recent CoViD-19 outbreak. We use the first EPA registered Equipment & Solution for Healthcare - Hospital disinfecting.
Biohazard Cleanup Services in Rochester, NY
When people think of biohazards, they often think of yellow tape, large signs, and people in full protective suits. That thought isn't wrong. Biohazardous materials are all around us; some are worse than others. There are various types of biohazardous materials and different situations that can expose individuals to these kinds of materials.
Different situations that usually involve hazardous materials include crime scenes, hoarding, sewage backup, and meth labs. The materials that may be involved in the biohazard can consist of blood, chemicals, viruses/bacteria, and mold. 
Each situation and material pose a risk to people and the environment. Due to the nature of the biohazard materials and the various risks involved, you must avail Rock Environmental's biohazard cleanup services in and around the Rochester area. Peace of mind, safe and effective decontamination, and expert services are only a call or email away.
What are the Biohazard Safety Levels?
The biohazard safety levels (BSLs) determine the potential health risks and safety measures required to eliminate a biohazard. The CDC defines four levels to assess severity. They are starting at level 1 (least risk to humans) to level 4, which can cause life-threatening damages which have no cure (highest risk of contamination).
When it comes to the biohazard cleanup by Rock Environmental professionals, the level will determine the required PPE needed to ensure proper protection for all involved.
Biosafety Level 1
Level 1 biohazards don't pose a risk to people; however, if a person becomes infected with certain viruses bacteria (ex. E-coli, varicella-zoster), they can become very contagious. The professional cleaning team can wear essential PPE such as gloves and eyewear, and there is no need for decontamination.
Biosafety Level 2
Level 2 biohazards can include viruses such as HIV and staphylococcus. These can pose a mild to moderate health risk to those exposed. The PPE worn while cleaning level 2 hazards include coats/suits, gloves, eyewear, and face shields. Some chemicals are also included in level 2, and an area used for eye washing or skin washing should be available.
Biosafety Level 3
Level 3 hazards can include potentially hazardous materials such as deadly diseases in humans like West Nile, Tuberculosis, and SARS-CoV-2. Level 3 viruses are often airborne and require professional teams to wear full PPE, including a respirator.
Biosafety Level 4
Level 4 biohazards are often rare, but they are the most deadly. Serious illnesses such as ebola don't have treatment or vaccines and are almost always fatal. For this risky level, full hazmat suits are required and full decontamination whenever leaving the area of contamination.
Biohazard Cleanup Services
The 5 Most Common Biohazard Materials
In addition to the variety of hazmat cleaning services provided by Rock Environmental, several types of materials related to the situations could be encountered. The five most common biohazard waste types include sharps, solids, liquid, pathological, and environmental. See the details below.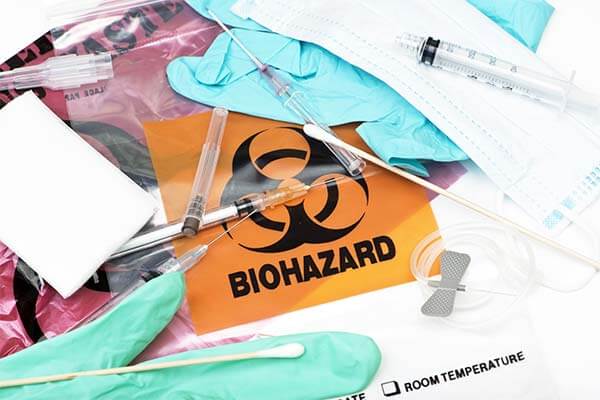 Materials that can poke, cut or stab an individual could be considered a biohazard when these items are not handled carefully. Cuts or wounds may cause bloodborne pathogen contamination. These materials can include needles, scalpels/knives, and broken glass. 
Needles and syringes should be disposed of in a biohazard sharps container. Medical facilities adhere to a set of health regulations for proper disposal.
Solid (Non-Sharp) Biohazards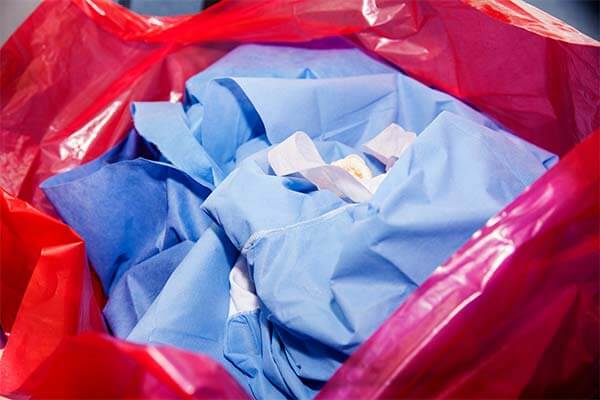 Solid material biohazards are usually items used by people or animals. For example, gloves, face masks, tissues, and sheets or towels. When visiting a medical facility, the bedding is often paper for easy cleanup and removal. Other individuals can contaminate these materials, potentially spreading viruses.
Liquid biohazards can be stored safely in closed containers. These liquids can include urine, feces, blood, and other bodily fluids. At home, chemicals can be considered a biohazard when improperly combined or if they are spilled in large amounts. Small amounts of these liquids do not pose a biohazard risk if they can easily be cleaned up and disposed of safely.
Organs, body parts, bodily tissue, and decaying bodies (human or animal) are all forms of pathological biohazards. Most of these hazardous materials will be collected during Rochester crime scene investigations and medical facilities. We may also encounter blood cleanup after a suicide or unattended death. Surgeries, biopsies, and autopsies are the most common medical situations in which someone may come in contact with these materials.
Environmental biohazards may not be as common as others, but they can be just as lethal. These biohazards can include mold, asbestos, lead, and other solid contaminations. The materials are often airborne in these forms and can cause severe illnesses. Asbestos and lead are not always an issue, and they become a problem when small microscopic particles are released into the air and breathed in.
What Is the Biohazard Cleanup Process?
Not all biohazard situations require immediate action; however, they do not go away on their own and will need to be resolved. The team at Rock Environmental has been trained in handling biohazardous materials and has a complete process outlined to ensure safety for them and you.
Step 1: Evaluate and assess the biohazard situation to determine the severity of contamination and BSL (what type of cleanup will require).
Step 2: Ensure proper PPE is available depending on the biosafety level (full body suit with respirator, mask, gloves)
Step 3: Determine a specified area to use as a "clean space." Our team will use this area to decontaminate and ensure that the biohazard doesn't contaminate other areas.
Step 4: Make a note of the areas that need to be cleaned and remediated. Create a biohazard cleanup plan with the team and homeowner.
Step 5: Eliminate any materials that can not be cleaned or saved by our restoration process. These materials may include carpets and furniture. 
Step 6: Begin the clean and disinfect process using various cleaning, sanitizing, and deodorizing agents. Rock Environmental uses SteraMist for cleaning, sanitation, deodorizing, and restoration projects. You can read more information on using SteraMist on our Coronavirus Cleaning page.
Step 7: According to local guidelines, all hazardous materials will be disposed of safely and adequately (items contaminated from cleaning blood and other contaminated materials, including PPE).
The cost of biohazard cleanup can vary depending on many factors. Some include the type of biohazard and which safety level it falls under. The riskier the job, the higher the costs may be. Additionally, how much time it will take to fully remediate the area, how much PPE is required, and other possible damages.
The price range often tends to fall between $2,500 and $6,000 but can exceed $25,000 for more difficult biohazard situations. Biohazard remediation is often more expensive because no spot can be left uncleaned. It is much more in-depth than a regular cleaning, so the HAZWOPER-trained professionals at Rock Environmental are the ones for the job.
Why Choose Rock Environmental for Biohazard Cleanup?
The professionals at Rock Environmental have all been HAZWOPER trained and certified for handling hazardous materials. Additionally, the team follows all OSHA, EPA, and CDC guidelines for biohazard cleanup and removal. 
These traumatic situations can be difficult for individuals and their family members, and the Rock crew considers the difficulties that may be occurring. Our team guarantees professionalism and top-notch quality services completed promptly with care and compassion. Our goal is to help you get back to pre biohazard conditions with our streamlined process.
Call or email today for professional biohazard cleanup services provided by Rock Environmental.